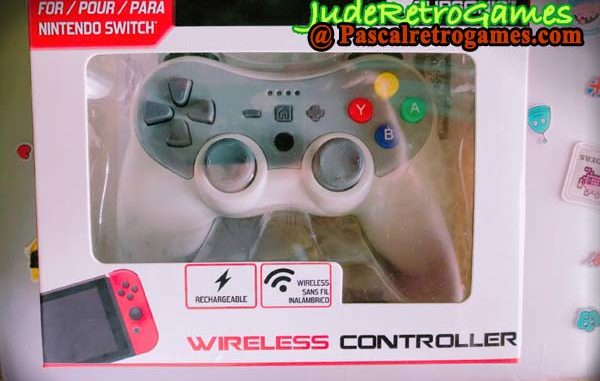 J'ai pas mal d'amis gamers et pas assez de manettes. Oui, d'accord! C'est moi que vous ai parlé du fait qu'on peut désormais connecter ses manettes GameCube à sa Switch et oui j'en ai des manettes GameCube, mais c'est aussi bien d'avoir des manettes dans fil à disposition.
Voilà pourquoi j'ai acheté la manette sans fil de Subsonic (Non, ils ne nous ont pas donné une manette gratos).
Style
A premier abord, elle est plutôt mignonne: son style mélange la forme de la manette PlayStation avec le look de la manette SNES. Ses couleurs sont celles de la SNES, sauf qu'elles ont été inversées sur les boutons.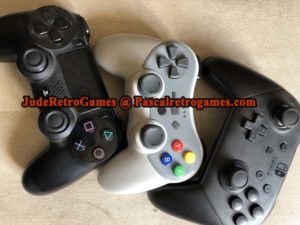 Le fait que la manette soit dans le style de celle de la PS devrait permettre aux fans de cette dernière à se lancer sur la Switch. Cela devrait simplifier la vie de ceux qui ont plusieurs consoles.
Vraiment, son style me plait beaucoup.
Houston, nous avons un problème!
Ou, plutôt DES problèmes!!
Poids
La manette Subsonic est légère. Trop, même.
La manette Pro Controller de Nintendo pèse 246g, tandis que la Subsonic ne pèse que 179g. Etant donné que la Pro Controller soit la référence pour les manettes de la Switch, il doit avoir une raison pourquoi elle pèse si lourd.
En effet, à l'intérieur de la Pro Controller se trouvent des détecteurs de movement. Ceux-ci sont utilisé, entre autre, pour viser dans Breath of the Wild ou sauter dans Odyssey. Ils sont absents de la Subsonic, donc on perd ces options de jeu avec cette manette.
La Subsonic donne l'impression qu'elle va être facile à casser. La qualité de construction n'est pas au top. OK, si on achète une manette peu chère on sait qu'on ne va pas tout avoir mais, s'ils sont obligé d'enlever ces fonctionnalités, au moins avoir une bonne qualité de construction.
Je dois avouer qu'en sortant la manette de sa boîte, je me demandais si j'avais bien fait de l'acheter.
Contrôle
Le D-pad n'est, franchement, pas top. On appuie sur une direction et tout le pad bouge complètement dans ce sens. Ca fait très « cheap ». Pour des platformers 2D, cela ne va pas permettre un contrôle parfait du personnage.
Cela est, d'ailleurs, l'un des seuls problèmes de la Pro d'origine. Nintendo a réglé cela pour les Pro Editions Spéciales (telles que Splatoon 2). Ici, c'est même pire que sur la Pro.
Aussi, les thumbsticks ne sont pas super. Ils veulent se battre contre toi et revenir au milieu pendant que tu les bouges. En les bougeant, quand j'ai arrêté de pousser, j'ai ressenti qu'ils ne voulaient pas être comme ça. Cela peut paraitre bizarre, mais ce n'est pas très agréable. Ils manquent la fluidité de contrôle et de mouvement des JoyCon et de la Pro.
Connexion
Ou pas.
Déjà, la méthode de connexion n'est pas la même que pour les produits Nintendo. Il faut appuyer sur « Home » et Y au même temps pour activer la manette et faire la connexion. N'essayez pas de faire « L + R » comme indiqué sur l'écran de votre Switch. Cela ne va rien faire.
Et c'est ici que notre histoire prend fin. Pourquoi?
Ca a fait planter ma Switch!!! Voilà pourquoi!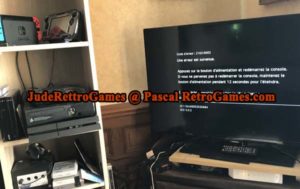 J'ai dû redémarrer ma console plusieurs fois car, à chaque fois que j'essayais de connecter la manette.. bim! Message d'erreur.
Je me suis dit « j'ai peut-être loupé quelque chose… » Direction Amazon, voir ce que disent des vrais clients…
Ah oui! Quand même!
J'ai donc dépensé 32€ pour un presse-papiers? Merci Subsonic.
A éviter: Prenez une Pro Controller. Oui, c'est plus chère mais elle fonctionne! Et puis, s'il faut remplacer tout le temps, tant qu'à faire.